Original article

Open Access
Enhancing poly(3-hydroxyalkanoate) production in Escherichia coli by the removal of the regulatory gene arcA
Received: 8 November 2016
Accepted: 9 November 2016
Published: 23 November 2016
Abstract
Recombinant Escherichia coli is a desirable platform for the production of many biological compounds including poly(3-hydroxyalkanoates), a class of naturally occurring biodegradable polyesters with promising biomedical and material applications. Although the controlled production of desirable polymers is possible with the utilization of fatty acid feedstocks, a central challenge to this biosynthetic route is the improvement of the relatively low polymer yield, a necessary factor of decreasing the production costs. In this study we sought to address this challenge by deleting arcA and ompR, two global regulators with the capacity to inhibit the uptake and activation of exogenous fatty acids. We found that polymer yields in a ΔarcA mutant increased significantly with respect to the parental strain. In the parental strain, PHV yields were very low but improved 64-fold in the ΔarcA mutant (1.92–124 mg L−1) The ΔarcA mutant also allowed for modest increases in some medium chain length polymer yields, while weight average molecular weights improved by approximately 1.5-fold to 12-fold depending on the fatty acid substrate utilized. These results were supported by an analysis of differential gene expression, which showed that the key genes (fadD, fadL, and fadE) encoding fatty acid degradation enzymes were all upregulated by 2-, 10-, and 31-fold in an ΔarcA mutant, respectively. Additionally, the short chain length fatty acid uptake genes atoA, atoE and atoD were upregulated by 103-, 119-, and 303-fold respectively, though these values are somewhat inflated due to low expression in the parental strain. Overall, this study demonstrates that arcA is an important target to improve PHA production from fatty acids.
Keywords
Polyhydroxyalkanoates
Biodegradable polymer
Escherichia coli
Fatty acid metabolism
arcA
Beta-oxidation
Introduction
Poly(3-hydroxyalkanoates), or PHAs, are a group of biodegradable polyesters produced by a variety of microorganisms as a form of carbon storage (Lu et al. 2009). These PHAs are typically classified as short chain-length (SCL) PHAs, which contain repeating units of 3–5 carbons, and medium chain-length (MCL) PHAs containing 6–14 carbons. The physical properties of PHAs are dependent on monomer composition; SCL PHAs are generally stiff and brittle while MCL PHAs are more elastomeric, and co-polymerization of the two groups allows for great variability in material properties (Laycock et al. 2013). Previous studies have shown that MCL PHAs can be effectively produced in recombinant E. coli lacking the fatty acid degradation gene fadB when utilizing a related carbon source such as fatty acids, although the monomer composition of the resulting polymers was heterogenous and uncontrolled (Langenbach et al. 1997; Qi et al. 1997).
Recently, it was shown that the monomer identity can be precisely controlled in both PHA homo- and co-polymers synthesized by recombinant
Escherichia coli
strain LSBJ (Tappel et al.
2012a
,
b
). This was accomplished by deleting both the
fadB
and
fadJ
genes in
E. coli
LS5218, recombinantly co-expressing the
phaJ4
gene from
Pseudomonas putida
KT2440 with the highly active and broad substrate utilizing
phaC1(STQK)
genes, and feeding in specific ratios of fatty acids for conversion to PHAs (Fig.
1
). This system allowed for strict control of repeating unit composition which enables great control over the physical properties of PHA polymers produced using this system, unlocking the potential for tailoring PHA materials for click-chemistry modifications (Levine et al.
2015
,
2016
; Pinto et al.
2016
). Although these previous studies addressed control of the monomer composition and thus physical and chemical properties of PHA polymers, overall polymer yields were still relatively low and some fatty acid substrates had poor incorporation into either PHA homo- or copolymers. The previously defined system relied heavily on the deletion of the
fadR
gene in
E. coli
LS5218 for constitutive expression of the genes encoding enzymes from the β-oxidation pathway (Spratt et al.
1981
). In a previous study, researchers demonstrated that the inhibition of β-oxidation intermediates using acrylic acid was an effective strategy for improving PHA biosynthesis, particularly in combination with a
fadR
deletion (Qi et al.
1998
). In addition to FadR, there are three other transcriptional regulators, ArcA, OmpR, and CRP-cAMP, that are known to inhibit the expression of genes involved in β-oxidation. For this study, we focused on the regulators ArcA and OmpR because CRP-cAMP is known to act as a transcriptional activator of β-oxidation in the absence of glucose, and only exhibits repression when glucose is present (Fic et al.
2009
). We hypothesized that removal of transcriptional regulators that inhibit expression of β-oxidation related genes would result in improved flux through fatty acid catabolic pathways to increase PHA polymer yields in our engineered system. Therefore, in this study
E. coli
LSBJ was engineered to improve the biosynthesis of PHA from fatty acid substrates by removing the global regulatory genes
arcA
and
ompR
.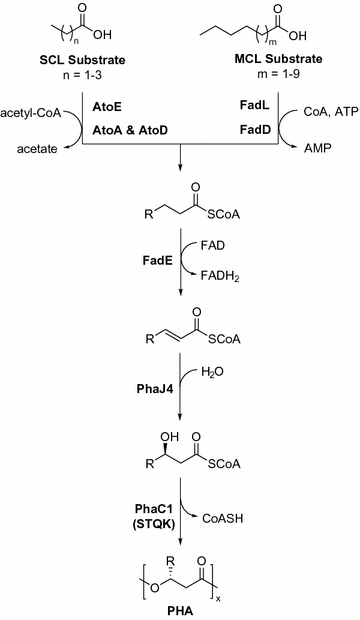 The transcriptional regulator OmpR functions as a response regulator of the two component regulatory EnvZ/OmpR system, which exhibits control over the expression of outer membrane porins in response to osmolarity (Mizuno and Mizushima
1990
). The sensor kinase EnvZ autophosphorylates in response to extracellular osmolarity and transphosphorylates OmpR (OmpR-P), which binds to DNA and alters expression of genes within the OmpR regulon (Forst and Roberts
1994
; Matsubara and Mizuno
1999
). The most well-studied members of the OmpR regulon are OmpF and OmpC, outer membrane porins that control the diffusion of small hydrophilic molecules (Aiba and Mizuno
1990
; Mizuno and Mizushima
1990
; Silhavy and Pratt
1995
). However, OmpR controls numerous other transporter genes including
fadL
(Table
1
), as well as genes involved in amino acid metabolism and flagellar biosynthesis (Higashitani et al.
1993
; Oshima et al.
2002
).
Table 1
Regulation Targets of ArcA and OmpR
Target Gene

Description

Reference

arcA

fadL

Long-chain fatty acid transporter, experimental evidence

Cho et al. (2006)

fadD

Acyl-CoA synthetase, experimental evidence

Cho et al. (2006)

fadE

Acyl-CoA dehydrogenase, experimental evidence

Cho et al. (2006)

ompR

fadL

Long-chain fatty acid transporter, predicted

Higashitani et al. (1993)
The global transcriptional dual regulator ArcA functions as the response regulator of the two-component regulatory ArcAB system, which regulates the expression of genes involved in aerobic and anaerobic metabolism in response to oxygen availability (Iuchi and Ec 1988; Lynch and Lin 1996). During conditions of decreasing oxygen availability, ArcA is activated through a phosphorelay mechanism and binds to the consensus sequence 5′-wGTTAATTAw-3′ (w is A or T) located in numerous genes, including several genes involved in β-oxidation shown in Table 1, and acts as either a repressor or activator (Iuchi and Lin 1992; Lynch and Lin 1996; Liu and Wulf 2004; Cho et al. 2006; Peña-Sandoval and Georgellis 2010). It has previously been shown that the redox biochemistry and transcriptional regulation of an ΔarcA mutant strain is significantly altered during microaerobic growth conditions, and to a lesser degree during aerobic growth conditions (Oshima et al. 2002; Alexeeva et al. 2003; Shalel-Levanon et al. 2005). The work presented here demonstrates for the first time an arcA deletion mutant combined with a fadR mutation to improve the biosynthesis of PHA polymers derived from fatty acid substrates.
Methods
Materials
A complete list of strains, plasmids, and primers used for this study is shown in Table
2
. All strains were grown in Lennox Broth (LB; composition per liter: 10 g tryptone, 5 g yeast extract, and 5 g sodium chloride, pH 7.0) purchased from Difco, and the antibiotics kanamycin (50 mg L
−1
) and ampicillin (100 mg L
−1
) were added to media throughout the experiment as appropriate. The fatty acids sodium butyrate (Alfa Aesar), pentanoic acid (Alfa Aesar), hexanoic acid (Alfa Aesar), heptanoic acid (Alfa Aesar), sodium octanoate (Sigma Aldrich), decanoic acid (Alfa Aesar), and dodecanoic acid (Acros Organics) were used as feed supplements for PHA production (12 mM), along with the surfactant Brij-35 (Fisher Scientific, 4.0 g L
−1
). Sodium phosphate dodecahydrate (Acros Organics, 8 mM) was added when noted. Sodium hydroxide (5 M) was used to adjust the pH to 7.0 when necessary. Primers were ordered from Integrated DNA Technologies (IDT). ACS HPLC-grade chloroform and methanol were used for gas chromatography (GC) sample preparation and polymer purification.
Table 2
Strains, plasmids, and primers
Escherichia coli

Relevant characteristics

Source or reference

LSBJ

fadB::Cm, ΔfadJ, atoC512 (Const), fadR601

Tappel et al. (2012a)

RSC02

ΔarcA LSBJ

This study

RSC04

ΔompR LSBJ

This study

RSC06

ΔarcA, ΔompR LSBJ

This study

Plasmids

pKD46

λ Red recombinase expression plasmid; expresses exo, β, and γ genes from λ phage; P-araB promoter; araC; AmpR; temperature sensitive replicon

Datsenko and Wanner (2000)

pKD13

Neomycin phosphotransferase flanked by FLP recombinase recognition targets, AmpR, KmR

Datsenko and Wanner (2000)

pCP20

FLP recombinase expression plasmid, AmpR, temperature sensitive replicon

Datsenko and Wanner ( 2000)

pBBR-C1J4SII

pBBR1MCS-2 derivative ΔphaAB, phaJ4, phaC1 (STQK)

Tappel et al. (2012b)

Primers a,b

Sequence (5′ to 3′)

pKD13.F.arcA

ATGCAGACCCCGCACATTCTTATCGTTGAAGACGAGTTGGTAACACGCAAGTGTAGGCTGGAGCTGCTTC

pKD13.R.arcA

TTAATCTTCCAGATCACCGCAGAAGCGATAACCTTCACCGTGAATGGTGGATTCCGTGGATCCGTCGACC

pKD13.F.ompR

ATGCAAGAGAACTACAAGATTCTGGTGGTCGATGACGACATGCGCCTGCGGTGTAGGCTGGAGCTGCTTC

pKD13.R.ompR

TTAGAACATTACCTTATGACCGTACTGCTCAAGAATGCCTTTCACGCGTTATTCCGTGGATCCGTCGACC

arcA.check.F/R

GTTAATTTGCAGCATGCATCAGG/GACGATGAGTTACGTATCTGG

ompR.check.F/R

AAATTGTTGCGAACCTTTGG/GCAATAACGTACGGGCAAAT

qAtoA.F/R

GGTGCAGCCATGTTTGATAG/CGCGAGGTTTGCTTCTTC

qAtoD.F/R

ACTTGGCAACCTGACCTATC/GACCAGTTCATCTGGCTCTAC

qAtoE.F/R

ACTCGGTATCGCTTACCTTG/GCAGACCCGCAATCATAAAC

qFadD.F/R

TCTCCAGTCTGCATCTTTCC/CCATAGCCTTCCAGCAGATAC

qFadE.F/R

TTACCCGTCTGGATGAACTG/GACGGCTTTCTTCAGCTTTC

qFadL.F/R

GGGCGCTTCTATTACCTCTAA/TTTCAAGGTCGGTTGTACCC

qRpoD.F/R

GAGCAAGGCTATCTGACCTATG/GCCCATGTCGTTGATCATTTG
Gene deletions
The deletion of the arcA and ompR genes was accomplished using the λ red recombinase protocol, a commonly used method for nonpolar gene deletion, as previously described (Datsenko and Wanner 2000; Tappel et al. 2012b). Briefly, knockout cassettes were generated using PCR with gene-specific primers and the kanamycin resistance marker from pKD13 (Table 2). PCR was performed using PrimeSTAR HS polymerase (Takara) following the manufacturers recommended protocol. The λ red recombinase was expressed using plasmid pKD46, and knockout cassettes introduced by electroporation (1500 V, 5 ms; BTX ECM 399). Successfully recombination was determined by antibiotic selection and loci screening using check primers (Table 2). Antibiotic resistance was removed by the expression of FLP recombinase from the pCP20 plasmid, and successful deletions were confirmed by loss of antibiotic resistance and by PCR using loci check primers (Table 2). Deletion mutants ΔarcA, ΔompR, and the double deletion ΔarcA ΔompR) were named RSC02, RSC04, and RSC06, respectively (Table 2).
PHA production
Protocols for PHA production and cell harvest were adapted from a previous study (Tappel et al. 2012b), with several modifications. For initial preliminary experiments, LSBJ, RSC02, RSC04, and RSC06 were made chemically competent and transformed with pBBR-C1J4SII following standard procedures (Sambrook and Russell 2001), to express PHA synthase and enoyl-CoA hydratase. Transformants were grown on LB-agar plates, and single colonies were used to inoculate separate 2 mL LB seed cultures, in triplicate for each strain. Seed cultures were grown for 16 h at 37 °C and 200 rpm, and used to inoculate 100 mL of growth media in 500 mL baffled shake flasks (to final concentration of 0.5%). Growth media contained LB, Brij-35, decanoic acid, and kanamycin. Cultures were grown for 48 h at 30 °C and 250 rpm on a rotary shaker, and were then harvested following previously published methods (Tappel et al. 2012b).
A more robust test of PHA homopolymer production was performed between LSBJ and RSC02 using the methods described above, with two key differences. A variety of fatty acids were tested in the growth media: sodium butyrate, pentanoic, hexanoic, heptanoic, sodium octanoate, decanoic, and dodecanoic. In addition, sodium phosphate dodecahydrate was added to the growth media for these experiments, which acts as a buffer for the shorter chain fatty acids. This addition also provides a significant source of phosphate to the media, so to keep growth conditions consistent, sodium phosphate dodecahydrate was added to every other experiment in this study.
GC analysis
The yields and repeating unit compositions of PHA polymers were determined using GC, as previously described (Braunegg et al. 1978; Tappel et al. 2012b). Briefly, dried cells (15–20 mg) were dissolved in 2 mL of sulfuric acid: methanol solution (15:85) and 2 mL of chloroform and heated at 100 °C for 140 min in a 10 mL pressure vial (Kimax). The samples were cooled to room temperature followed by the addition of 1 mL of Nanopure filtered water, after which all samples were mixed by vortex. Aqueous and organic layers were allowed to separate for 20 min. The organic layer was passed through a 0.45 μm polytetrafluoroethylene (PTFE) syringe filter (Restek). An aliquot of 500 μL of each filtered sample was mixed with 500 μL of methyl octanoate standard (1 gL−1) in chloroform in a 2 mL GC vial. Samples were injected and separated using a GC 2010 Gas Chromatograph with an AOC-20i autoinjector with a flame ionization detector. Shimadzu's GCSolution software was used to analyze the data, and statistical significance of triplicate samples was determined using a two-tailed Student's t test with a 95% confidence interval (α = 0.05).
Polymer purification and molecular weight determination
PHA homopolymers were extracted from residual dried cell samples from the LSBJ and RSC02 biosynthesis experiments by combining each set of triplicate samples into single 10 mL pressure vials (Kimax), adding 6 mL of chloroform, and incubating at 100 °C for 1 h. Each sample was filtered through a 0.45 μm PTFE syringe filter (Restek) into a 20 mL scintillation vial and rinsed twice with 2 mL aliquots of chloroform. Samples were concentrated to relative dryness using a rotary evaporator, and redissolved in 1 mL chloroform. Crude polymers were purified by non-solvent precipitation in cold methanol as described previously (Pinto et al. 2016), with several modifications. Briefly, dissolved samples were added dropwise to 10 mL of ice-cold methanol (4 °C) with rapid stirring. The solution was centrifuged (3452×g, 30 min, 4 °C) to pellet the PHA, decanted and washed with an additional 5 mL of methanol, and re-centrifuged. The supernatant was decanted, and the pellet dissolved in approximately 2 mL of chloroform to transfer to a scintillation vial. Samples were concentrated in a rotary evaporator, and evaporated to dryness under high vacuum for 4 h.
The weight average (Mw) and number average (Mn) molecular weights for each sample were determined by gel permeation chromatography (GPC) as described previously (Pinto et al. 2016). Briefly, PHA solutions of approximately 1.0 g L−1 were prepared by dissolution in chloroform and passed through a syringe filter (0.45 μm PTFE). Samples were injected (50 μL) into a Shimadzu LC-20AD liquid chromatograph equipped with a Shimadzu SIL-20A autosampler, a Shimadzu CTO-20A column oven, and a Shimadzu RID-10A refractive index detector. Samples were passed through an 8 × 50 mm styrenedivinylbenzene (SDV) guard column (5 μm particles; Polymer Standards Service) and an 8 × 300 mm SDV analytical column (5 μm particles; mixed bed porosity; max molecular weight 1E6 Da; Polymer Standards Service product sda0830051lim). The column oven was maintained at 40 °C with a 1 mL min−1 mobile phase of chloroform. Molecular weight standards of polystyrene with a narrow polydispersity index were used for calibration. Shimadzu's LCsolution software was used to analyze the data. GPC chromatograms are available as supplemental material (Additional file 1: Figure S1).
Growth profiles of LSBJ and RSC02
An analysis of the growth profiles for LSBJ and RSC02 was performed under the PHA homopolymer biosynthesis conditions utilizing two separate substrates, sodium butyrate and decanoic acid. Media and growth conditions were identical to those in the PHA production section. A 1 mL aliquot was removed from each culture to measure the OD600 every hour using a spectrophotometer (Genesys 10S) until the stationary phase was observed. A 5 mL aliquot was removed from each culture at both 24 and 48 h to analyze PHA concentrations. The 5 mL samples were harvested and analyzed by GC as described above.
RNA extraction and qPCR analysis
RNA from E. coli LSBJ and RSC02 was isolated and purified as described previously (Lundgren et al. 2013; Sarwar et al. 2016). To isolate RNA for real-time quantitative PCR (qPCR), each strain was grown in duplicate in 100 ml of growth media (as described above, with sodium phosphate dodecahydrate and decanoic acid) in 500 ml baffled shake flasks at 30 °C and 250 rpm to an OD600 of ~0.6. Cultures were immediately stabilized by adding 1 ml of RNAprotect Bacteria reagent (Qiagen) to 0.5 ml of culture. Cells were then lysed with lysozyme and proteinase K as described in the manufacturer's protocol. The total RNA was subsequently purified from the lysed cells with the RNeasy minikit (Qiagen) by using an on-column DNase digestion step. PCR and a Bioanalyzer were used to check the RNA for DNA contamination, quality, and concentration.
The iScript cDNA synthesis kit (Bio-Rad) was used to generate cDNA from 1 μg of the purified RNA samples. A tenfold dilution series of the pooled cDNA from the two duplicate RNA samples from LSBJ or RSC02 was used for the qPCR experiments. The qPCR experiments were performed in triplicate. The expression of several important genes for β-oxidation was normalized to rpoD, a housekeeping gene with stable expression during exponential growth (Jishage et al. 1996). Primers for qPCR were designed to produce ~100 bp amplicons of each of the following genes: atoA, atoD, atoE, fadD, fadE, fadL, and rpoD (Table 2). The qPCR mixtures contained 300 mM of each primer, 10 μl of the 2 × iQ SYBR green Supermix (Bio-Rad), 5 μl of diluted cDNA, and nuclease-free water to a total volume of 20 μl. qPCR was performed on the MiniOpticon system (Bio-Rad) with the following conditions: 1 cycle of 95 °C for 2 min and 40 cycles of 95 °C for 15 s, 55 °C for 30 s, and 72 °C for 30 s. Window-of-linearity R 2 values and amplification efficiency values ranged from 0.990 to 1.0 and 90.0% to >100%, respectively. The dilution series with the highest R 2 values was used to calculate relative gene expression of RSC02 compared to LSBJ using the Pfaffl method (Fleige et al. 2006). Amplification efficiencies and threshold cycle (Cq) values were calculated using the program LinRegPCR (Ruijter et al. 2009).
Conclusion
One of the largest challenges still facing the PHA industry is the relatively low yield of polymer obtained, which contributes to the overall cost (Kaur 2015). The strain E. coli RSC02 that was developed in this study offers a significant improvement to the previously reported strain, E. coli LSBJ. The most significant improvements were seen in the biosynthesis of PHB, PHV, and PHHx, with modest increases observed in PHHp and PHD. These results are supported by the increased expression of atoA, atoD, and atoE which correlates with improved PHB and PHV biosynthesis, and also the increased expression of fadD, fadL, and fadE which may contribute to the increased biosynthesis of PHHx, PHHp, and PHD.
Declarations
Authors' contributions
RS performed the gene deletion experiments, the growth and harvest of all bacterial cultures, the GC preparation and analysis, the polymer extraction and purification, the compositional verification using H-NMR, the molecular weight analysis using GPC, and the gene expression analysis. RS also drafted the manuscript in its entirety. LJ participated in the growth and harvest of bacterial cultures for the PHA homopolymer experiments using various fatty acids, assisted in the preparation and analysis of samples for GC, performed the growth profile analysis, analyzed the polymer yields at 24 and 48 h, and drafted the figures and methods corresponding to the growth profile. BL provided a significant contribution to the design of the study, and also participated in the critical revision of each draft of the manuscript. CN conceived of the study initially and participated in its design, and also assisted in the drafting and revision of the manuscript. All authors read and approved the final manuscript.
Acknowledgements
We would like to thank the SUNY ESF Upper Division Honors Program and the Center for Applied Microbiology for their assistance with this work.
Compliance with ethical standards and competing interests
This study was funded by the National Science Foundation (NSF) Grant CBET-1263905. The authors declare that they have no competing interests. This article does not contain any studies with human participants or animals performed by any of the authors.
Open AccessThis article is distributed under the terms of the Creative Commons Attribution 4.0 International License (http://creativecommons.org/licenses/by/4.0/), which permits unrestricted use, distribution, and reproduction in any medium, provided you give appropriate credit to the original author(s) and the source, provide a link to the Creative Commons license, and indicate if changes were made.
Authors' Affiliations
(1)
Department of Chemistry, State University of New York College of Environmental Science and Forestry, Syracuse, USA
(2)
Center for Applied Microbiology, State University of New York College of Environmental Science and Forestry, Syracuse, USA
(3)
Hubei Collaborative Center for Green Transformation of Bio-Resources, College of Life Sciences, Hubei University, Wuhan, China