Original article
Open Access
Subpopulation-proteomics reveal growth rate, but not cell cycling, as a major impact on protein composition in Pseudomonas putida KT2440
Received: 18 August 2014
Accepted: 18 August 2014
Published: 29 August 2014
Abstract
Population heterogeneity occurring in industrial microbial bioprocesses is regarded as a putative effector causing performance loss in large scale. While the existence of subpopulations is a commonly accepted fact, their appearance and impact on process performance still remains rather unclear. During cell cycling, distinct subpopulations differing in cell division state and DNA content appear which contribute individually to the efficiency of the bioprocess. To identify stressed or impaired subpopulations, we analyzed the interplay of growth rate, cell cycle and phenotypic profile of subpopulations by using flow cytometry and cell sorting in conjunction with mass spectrometry based global proteomics. Adjusting distinct growth rates in chemostats with the model strain Pseudomonas putida KT2440, cells were differentiated by DNA content reflecting different cell cycle stages. The proteome of separated subpopulations at given growth rates was found to be highly similar, while different growth rates caused major changes of the protein inventory with respect to e.g. carbon storage, motility, lipid metabolism and the translational machinery.
In conclusion, cells in various cell cycle stages at the same growth rate were found to have similar to identical proteome profiles showing no significant population heterogeneity on the proteome level. In contrast, the growth rate clearly determines the protein composition and therefore the metabolic strategy of the cells.
Keywords
HeterogeneitySubpopulationsPseudomonas putidaProteomeFlow cytometryCell cycle
Introduction
Commonly applied assumptions consider microbial populations in bioreactors as uniform, thus leveling individual properties of subpopulations to averages. However, it is increasingly accepted that clonal microbial cultures comprise individuals that are not identical, differing in terms of DNA content and cell physiology (Brehm-Stecher and Johnson [2004]; Delvigne and Goffin [2013]). Heterogeneity of clonal microbial cultures may result from several distinct sources, either from internal biological origins, such as mutations, cell cycle decisions and age distribution, or from 'external' technical factors (Avery [2006]; Müller et al. [2010]). Notably, external factors interact with biological properties, yielding the superimposition of both impacts in the population. Here, we shed light on the impact of two key players in the origin of population heterogeneity, the growth rate and the cell cycle.
Traditionally, the cell cycle is suggested to play a role in the development of population heterogeneity within clonal populations (Müller et al. [
2010
]). A short summary of the sequence of cell cycle phases can be found in Figure
1
. The bacterial cell cycle was described for
Escherichia coli
comprising the B-Phase, which is defined as the time between division and start of replication, the replication phase (C-Phase), the pre-D-Phase (an interphase between the C- and D-Phase) and the division phase (D-Phase) (Cooper [
1991
]; Müller and Babel [
2003
]). Furthermore, under optimal growth conditions accelerated proliferation (also called 'multifork DNA-replication') can be monitored: new rounds of DNA replication may be initiated before a previous round is completed, putatively providing another source of heterogeneity (Bley [
1990
]; Müller [
2007
]).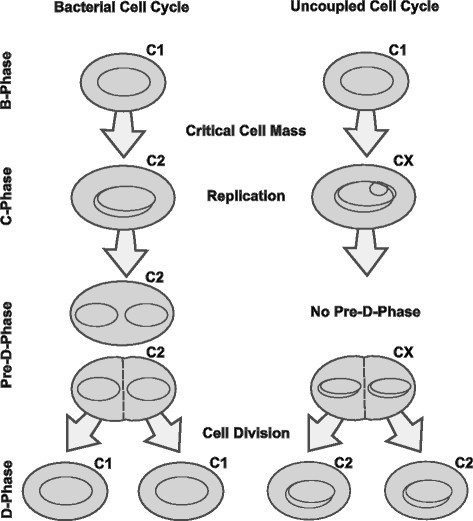 It is suspected, that biosynthesis of biotechnological interesting compounds occurs in dependency of the cell cycle, e.g. only within the stochastic B- and pre-D-phases, when cells are neither replicating nor dividing (Müller et al. [2010]). Ackermann et al. ([1995]) described for Methylobacterium rhodesianum that products like polyhydroxyalkanoates (PHAs) accumulate only when cells comprise a certain chromosome number. This phenomenon was found to occur at off-cell-cycling stages. In microbial biotechnology, heterogeneity caused by cell cycling may cause inefficiently producing subpopulations and could have significant impact on the overall process performance (Lencastre Fernandes et al. [2011]). Here, we aim to investigate if the protein inventory of a cell, which is related to its metabolic activity, is dependent on cell cycle stages and how growth rates may influence both, protein composition and cell cycling.
Pseudomonas putida KT2440 was used as a model organism owing to its numerous qualities as an expression host, such as safety (Bagdasarian et al. [1981]; Nakazawa and Yokota [1973]), fast growth, a fully sequenced genome (Nelson et al. [2002]) and high stress tolerance (Martins Dos Santos et al. [2004]). Together with simple nutrient demand, the potential to regenerate redox cofactors at a high rate (Blank et al. [2008]) and its amenability to genetic manipulation, P. putida is an ideal host for heterologous gene expression (Meijnen et al. [2008]). With the advance of genome-wide pathway modeling (Puchałka et al. [2008]) and 'omics techniques, the way for systems-wide engineering strategies was paved to turn P. putida into a flexible cell factory chassis (Yuste et al. [2006]). Consequently, P. putida is more and more explored and already successfully used for numerous industrial applications (Poblete-Castro et al. [2012]; Puchałka et al. [2008]).
In our study, we applied continuous cultivations under controlled growth conditions at defined growth rates. While (fed-) batch approaches are characterized by steadily changing environmental conditions such as media composition, steady-state modes of a chemostat, where cells are cultivated with a pre-installed growth rate, are defined by environmental conditions that remain unchanged (Carlquist et al. [2012]). Notably, (fed-) batch cultures usually represent a mixture of cells growing with different speed as a consequence of changing environmental conditions (Unthan et al. [2014]). Investigating a wide spectrum of growth rates with chemostat cultivation and sampling at steady state conditions gave a specific and unmasked view on the influence of the growth rate on population characteristics. Features like DNA content of the cells, protein composition and adenylate energy charge measurements were included in the study. Additionally, subpopulations with different DNA content were sorted at growth rates 0.1 h−1, 0.2 h−1 and 0.7 h−1 and analyzed for their proteome composition.
Summarizing, we investigated if cell cycling subpopulations at the same growth rate were independent and different from each other on the level of metabolic pathways, e.g. whether slow growing cells with longer cell cycling phases might specialize between proliferation and production phases. In addition, we wanted to clarify if cells invest into different protein species under rising growth rates.
Results
The yield of biomass on glucose increased gradually by 10% from μ = 0.1 h−1 to μ = 0.5 h−1. Further rise of the growth rate resulted in yield reductions, returning to the level at μ = 0.1 h−1 (−10%). The energetic capacity of the cells can be estimated via AEC, taking the relative contribution of all three phosphorylated forms of adenine into account. The AEC was found to be stable with increasing growth rate until μ = 0.4 h−1. Further increasing the growth rate resulted in a reduction of the AEC level by – 18% (p-value < 0.01), which was almost the same at maximum growth, still staying in the range of expected physiological levels. The specific glucose uptake rate qs was increasing linearly with increasing growth rate.
To investigate whether subpopulations with different DNA content show physiological differences as well, we sorted the cell population at three growth rates (0.1 h−1, 0.2 h−1 and 0.7 h−1) into subpopulations containing single (C1), double (C2) or more than double chromosome content (Cx) aiming to analyze their proteome profile as the basis of their phenotype. In total, 677 unique proteins could be detected. 351 proteins were found in at least one replicate of all subpopulations and 245 proteins were found across all replicates. 707 different functions of 647 unique proteins were annotated using the database of clusters of orthologous groups (COG) (Tatusov et al. [1997]) (Additional file 2: Figure S2). 95.2% of the non-sorted control population (CP) proteome could be found in the reference population (RP) proteome without significant changes, indicating only a small influence of cell sorting on protein recovery and confirming the quality of the analysis.
Significant changes in protein quantity were defined by exceeding a threshold of more than 1.5 fold change (FC) in combination with a p-value < 0.05 (Student's t-test). Changes in metabolic pathways were detected using GAGE and GlobalTest gene set analysis (Goeman et al. [2006]; Luo et al. [2009]) applying the same significance filter as for the individual proteins.
In contrast, subpopulations C2 and Cx of fast growing cells (μ = 0.7 h−1) revealed higher presence of proteins grouped in the pathway 'Translation, ribosomal structure and biogenesis' (Translation), while proteins of 'Signal transduction mechanisms' (Signaling) and 'Lipid transport and metabolism' (Lipids), were significantly underrepresented. The faster growth was reflected in proteins related to translation and therefore protein production. Here, 11 tRNA synthetases and 25 ribosomal proteins showed significantly higher abundance. In lipid metabolism, mostly enzymes of beta-oxidation were found in lower presence at fast growth (Figure 5). The supposed down regulation of the 'Cell Cycle' (C2 versus Cx) was mainly due to the single protein change of the poorly characterized PP_3128.
In summary, the proteome of cells differing in DNA content but of identical growth rate was highly similar, whereas the proteome of cells cultivated at different growth rates was significantly diverging in particular pathways.
Discussion
Considering the influence of different growth rates on the population, proteome analysis revealed that slow growth triggered starvation response, while fast growing cells displayed accelerated protein synthesis and alleviated stress physiology. In slowly growing cells, proteins connected to PHA synthesis and glycerol hydrolysis were amplified, indicating higher PHA carbon storage activity. Additionally, these cells showed protein patterns anticipating increased motility and chemotaxis response. Notably, low qS values of slowly growing cells (μ = 0.1 h−1) were not reflected on the energetic state of the population. AEC values did not differ significantly between slow and moderate growth rates of 0.1 h−1 and 0.4 h−1, respectively. Chemotaxis and cellular motility as a response to carbon-poor conditions are well-known phenomena in natural environments (Harshey [2003]; Soutourina and Bertin [2003]). Our observations in slowly growing cells are in agreement with findings of transcriptome studies in 'average populations' of other species. For instance, studies in E. coli showed higher expression of genes involved in motility at slower growth rates in direct comparison to faster growth conditions (Nahku et al. [2010]) and studies in Saccharomyces cerevisiae showed significant amplification of carbon storage metabolism at slow growth (François and Parrou [2001]).
Fast growing cells were obviously investing resources in proteins involved or related to the translation machinery. Multiple ribosomal proteins as well as tRNA synthetases were highly abundant fostering protein/biomass production (Figure 5). This finding is also in agreement with observations in eukaryotes like S. cerevisiae (Rebnegger et al. [2014]) and prokaryotes such as Salmonella typhimurium (Schaechter et al. [1958]). Additionally, proteins of typical carbon storage pathways, e.g. PHA synthesis, were less abundant in P. putida KT2440. Proteins of lipid biosynthesis, especially involved in beta oxidation were also lowered in fast growing cells compared to RP. This observation is in agreement with the lower abundance of the PHA synthesis proteins, as the beta oxidation provides precursors for this pathway (Aldor and Keasling [2003]).
To our surprise, the almost 6.5-fold increase of the specific glucose uptake rate with increasing growth rate (Figure 2), was not mirrored by major changes among proteins involved in carbohydrate and energy metabolism.
Notably, relative changes of protein quantity can be elucidated with the method applied here. Absolute changes per cell, dependent on the growth rate were not measured with the applied workflow, as it was first shown for the sum of proteins by Schaechter et al. ([1958]). Their pioneering studies described an exponential increase in protein, DNA and RNA contents and therefore, cell size with increasing growth rates (Bremer and Dennis [1996]; Maaløe and Kjeldgaard [1966]; Schaechter et al. [1958]). In our study, the relative cell size estimation was acquired using FSC. In accordance to various other cell cycle analyses, the FSC increased with increasing growth rates (Donachie [1968]; Hewitt et al. [1999]; Neumeyer et al. [2013]; Skarstad et al. [1983]) (Figure 3). Following the rational of Schaechter et al. ([1958]), this phenomenon reflects increasing protein contents per cell. We presume that the increased amount of cellular glucose uptake is proportional to the elevated production of proteins, thus increasing absolute protein quantity but leaving relative quantity unchanged.
Studying the putative impact of growth rate and cell cycle stage on the functional diversity of a population, the growth rate is obviously a major determinant for cellular protein composition, as found in our chemostat studies. Growth and cell cycle were clearly linked, but subpopulations showing different DNA content showed only small differences in cellular physiology at the same growth rate. The detection of FtsZ in a significant higher abundance in the C2 subpopulation, which is preparing for division after finishing replication, is in agreement with its assigned function as a proposed diffusible factor (Teather et al. [1974]) initiating cell division (Chien et al. [2012]). Despite this cell cycle related finding, subpopulations showed almost identical protein patterns irrespective of cell sizes, anticipated protein mass (Lindmo [1982]; Rønning et al. [1979]) and DNA content.
Surprisingly, no signs for a specialization of cells in different cell stages for e.g. carbon storage or protein production/growth could be observed that could support the hypothesis of shared tasks of subpopulations in B- and pre-D/D-phases during the cell cycle. This result is remarkable: subpopulations distinguished by DNA content appear to be physiologically highly similar provided that the growth rate is the same.
Although we are aware that subpopulations do not mirror single cell proteome compositions, the high resemblance of the subpopulations proteome patterns at the various growth rates point to their nearly identical physiological state.
One may argue whether this finding was influenced by the operation mode 'chemostat'. We identified the high similarity among subpopulations by installing distinct growth rates, because superimposing impacts in classical (fed-) batch fermentations would have prevented the unequivocal growth-to-subpopulation analysis. However, the chemostat approach might have excluded the detection of subpopulations with different protein contents because this 'growth rate filter' was installed. Assuming that cells aim to grow with the least energetic burden as possible, cellular protein compositions should be optimized at a given growth rate. Therefore, it could not be excluded, that subpopulations showing different protein patterns may have existed, but were washed-out because they could not achieve the required growth rate. While the latter demands for further in-depth analysis, the determining impact of growth on cell cycle and subpopulations is clearly visible. It gives rise to the assumption that the cell cycle itself has a minor impact on population heterogeneity under the conditions tested.
Declarations
Acknowledgments
This work was supported within the ERA-IB / ERA-NET scheme of the 6th EU Framework Programme (0315932B).
Authors' Affiliations
(1)
Institute for Biochemical Engineering, University of Stuttgart, Stuttgart, Germany
(2)
Department of Environmental Microbiology, Helmholtz Centre for Environmental Research—UFZ, Leipzig, Germany
(3)
Department of Proteomics, Helmholtz Centre for Environmental Research—UFZ, Leipzig, Germany
(4)
Institute of Animal Nutrition, University of Hohenheim, Stuttgart, Germany
(5)
Department of Metabolomics, Helmholtz Centre for Environmental Research—UFZ, Leipzig, Germany
(6)
Department of Biotechnology, Chemistry and Environmental Engineering, University of Aalborg, Aalborg, Denmark
Copyright
© Lieder et al.; licensee Springer 2014
This article is published under license to BioMed Central Ltd. This is an Open Access article distributed under the terms of the Creative Commons Attribution License (http://creativecommons.org/licenses/by/4.0), which permits unrestricted use, distribution, and reproduction in any medium, provided the original work is properly credited.