Modeling formalisms in Systems Biology
Received: 18 November 2011
Accepted: 5 December 2011
Published: 5 December 2011
Abstract
Systems Biology has taken advantage of computational tools and high-throughput experimental data to model several biological processes. These include signaling, gene regulatory, and metabolic networks. However, most of these models are specific to each kind of network. Their interconnection demands a whole-cell modeling framework for a complete understanding of cellular systems. We describe the features required by an integrated framework for modeling, analyzing and simulating biological processes, and review several modeling formalisms that have been used in Systems Biology including Boolean networks, Bayesian networks, Petri nets, process algebras, constraint-based models, differential equations, rule-based models, interacting state machines, cellular automata, and agent-based models. We compare the features provided by different formalisms, and discuss recent approaches in the integration of these formalisms, as well as possible directions for the future.
Keywords
Systems Biology
Modeling Formalisms
Biological Networks
Introduction
Living organisms are complex systems that emerge from the fundamental building blocks of life. Systems Biology (SB) is a field of science that studies these complex phenomena currently, mainly at the cellular level (Kitano 2002). Understanding the mechanisms of the cell is essential for research in several areas such as drug development and biotechnological production. In the latter case, metabolic engineering approaches are applied in the creation of microbial strains with increased productivity of compounds with industrial interest such as biofuels and pharmaceutical products (Stephanopoulos 1998). Using mathematical models of cellular metabolism, it is possible to systematically test and predict manipulations, such as gene knockouts, that generate (sub)optimal phenotypes for specific applications (Burgard et al. 2003, Patil et al. 2005). These models are typically built in an iterative cycle of experiment and refinement, by multidisciplinary research teams that include biologists, engineers and computer scientists.
The interconnection between different cellular processes, such as metabolism and genetic regulation, reflects the importance of the holistic approach introduced by the SB paradigm in replacement of traditional reductionist methods. Although most cellular components have been studied individually, the behavior of the cell emerges at the network-level and requires an integrative analysis.
Recent high-throughput experimental methods generate the so-called omics data (e.g.: genomics, transcriptomics, proteomics, metabolomics, fluxomics) that have allowed the reconstruction of many biological networks (Feist et al. 2008). However, despite the great advances in the area, we are still far from a whole-cell computational model that integrates and simulates all the components of a living cell. Due to the enormous size and complexity of intracellular biological networks, computational cell models tend to be partial and focused on the application of interest. Also, due to the multidisciplinarity of the field, these models are based on several different kinds of formalisms, including those based on graphs, such as Boolean networks, and equation-based ones, such as ordinary differential equations (ODEs). This diversity can lead to the fragmentation of modeling efforts as it hampers the integration of models from different sources. Therefore, the whole-cell simulation goals of SB would benefit with the development of a framework for modeling, analysis and simulation that is based on a single formalism. This formalism should be able to integrate the entities and their relationships, spanning all kinds of biological networks.
This work reviews several modeling formalisms that have been used in SB, comparing their features and relevant applications. We opted to focus on the formalisms rather than the tools as they are the essence of the modeling approach. For the software tools implementing the formalisms, the interested reader may use the respective references. Note that besides the intracellular level, several studies in SB also address the cellular population level. Therefore, formalisms for modeling the dynamics of cellular populations that have received attention in the field were also considered in this work.
There are some interesting reviews already published in the literature. However they usually focus only on particular biological processes. An excellent review regarding the modeling of signaling pathways was elaborated by Aldridge et al. (2006). They address the model design process, as well as, model validation and calibration. They highlight the application of ODE and rule-based models, but do not mention other formalisms. Another recent review on the modeling of signaling networks can be found in Morris et al. (2010). Two remarkable reviews on the modeling of gene regulatory networks are presented by Schlitt and Brazma (2007) and by Karlebach and Shamir (2008). Both give examples of several applications of different formalisms for modeling this kind of networks. A few reviews with broader scope can also be found in the literature. Two excellent examples are Fisher and Henzinger (2007) and Materi and Wishart (2007). Both give a critical discussion on the application of different formalisms for computational modeling of cellular processes. The former covers Boolean networks, interacting state machines, Petri nets, process algebras and hybrid models, whereas the latter covers differential equations, Petri nets, cellular automata, agent-based models and process algebras. The lack of a single comprehensive review that compares a larger spectrum of formalisms motivated the development of this work.
Biological Networks
Cells are composed by thousands of components that interact in a myriad of ways. Despite this intricate interconnection, it is usual to divide and classify these networks according to their biological function. A very simplistic example can be found in Figure
1
(created with the free software tool CellDesigner (
Funahashi et al. 2003
), that uses the graphical notations defined in (
Kitano et al. 2005
)). The main types of networks are signaling, gene regulatory and metabolic (although some authors also classify protein-protein interactions as another type of network).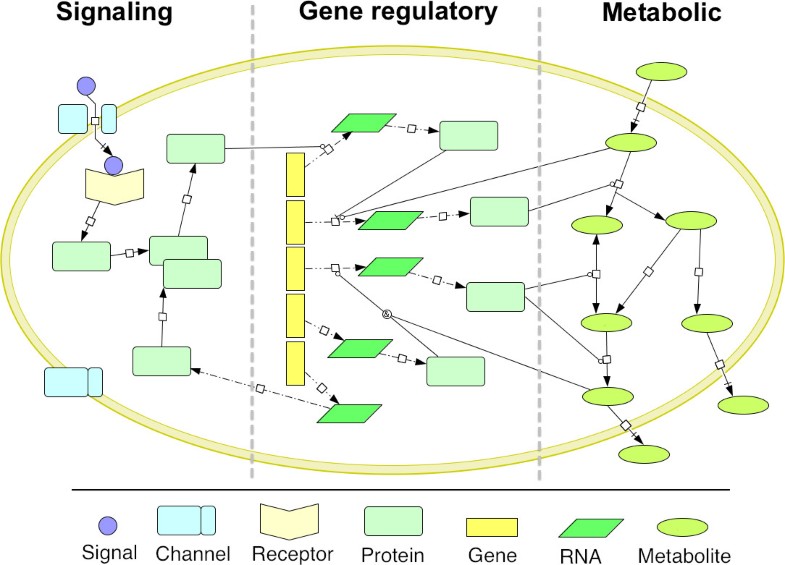 Signaling networks
Signal transduction is a process for cellular communication where the cell receives (and responds to) external stimuli from other cells and from the environment. It affects most of the basic cell control mechanisms such as differentiation and apoptosis. The transduction process begins with the binding of an extracellular signaling molecule to a cell-surface receptor. The signal is then propagated and amplified inside the cell through signaling cascades that involve a series of trigger reactions such as protein phosphorylation. The output of these cascades is connected to gene regulation in order to control cell function. Signal transduction pathways are able to crosstalk, forming complex signaling networks (Gomperts et al. 2009, Albert and Wang 2009).
Gene regulatory networks
Gene regulation controls the expression of genes and, consequently, all cellular functions. Although all of the cell functionality is encoded in the genome through thousands of genes, it is essential for the survival of the cell that only selected functions are active at a given moment. Gene expression is a process that involves transcription of the gene into mRNA, followed by translation to a protein, which may be subject to post-translational modification. The transcription process is controlled by transcription factors (TFs) that can work as activators or inhibitors. TFs are themselves encoded by genes and subject to regulation, which altogether forms complex regulatory networks (Schlitt and Brazma 2007, Karlebach and Shamir 2008).
Metabolic networks
Metabolism is a mechanism composed by a set of biochemical reactions, by which the cell sustains its growth and energy requirements. It includes several catabolic and anabolic pathways of enzyme-catalyzed reactions that import substrates from the environment and transform them into energy and building blocks required to build the cellular components. Metabolic pathways are interconnected through intermediate metabolites, forming complex networks. Gene regulation controls the production of enzymes and, consequently, directs the metabolic flux through the appropriate pathways in function of substrate availability and nutritional requirements (Steuer and Junker 2008, Palsson 2006).
Modeling Requirements
Due to the different properties and behavior of the biological networks, they usually require different modeling features (although some desired features such as graphical visualization are common). For instance, features such as stochasticity and multi-state components may be important for signaling but not for metabolic networks. A summary of the major modeling features required by these networks is presented next.
Modeling Formalisms
Many formalisms have been used to model biological systems, in part due to the diversity of phenomena that occur in living systems, and also due to the multidisciplinarity of the research teams. Biologists may be more familiar with mathematical modeling and computer scientists may be religious to their computational formalism of choice. The dichotomy between mathematical and computational models has been discussed elsewhere (
Hunt et al. 2008
). Although they follow different approaches (denotational
vs
operational), it has been questioned if there is such a clear separation between mathematical and computational models. Therefore, we will briefly describe several formalisms regardless of such distinction. Table
1
summarizes some of the literature references reviewed herein, classified by type of intracellular process implemented. Toy examples of the formalisms with graphical notation are depicted in Figure
2
.
Table 1
Literature references grouped by formalism
| | BN | Bay | PN | PA | CB | DE | RB | ISM | CA | AB |
| --- | --- | --- | --- | --- | --- | --- | --- | --- | --- | --- |
| Signaling | + | + | ++ | ++ | + | ++ | ++ | ++ | + | ++ |
| Gene regulatory | ++ | ++ | + | | + | ++ | | | + | |
| Metabolic | | | ++ | | ++ | ++ | | | + | + |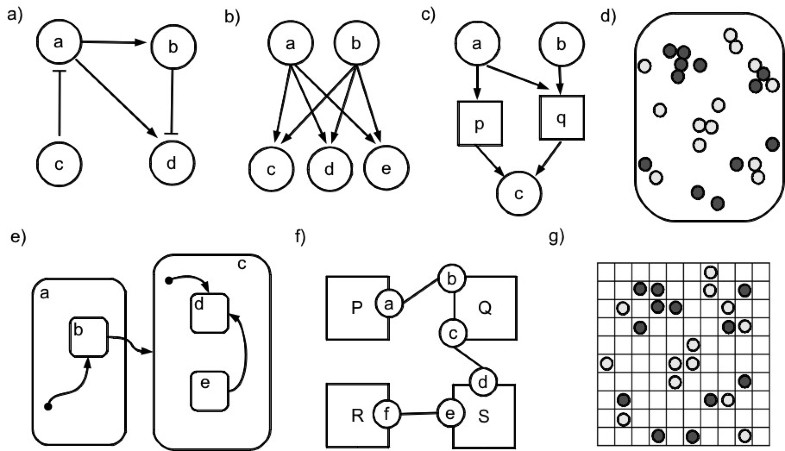 Declarations
Acknowledgements
Research supported by grants SFRH/BD/35215/2007 and SFRH/BD/25506/2005 from the Fundação para a Ciência e a Tecnologia (FCT) and the MIT-Portugal Program through the project "Bridging Systems and Synthetic Biology for the development of improved microbial cell factories" (MIT-Pt/BS-BB/0082/2008).
Authors' Affiliations
(1)
IBB-Institute for Biotechnology and Bioengineering/Centre of Biological Engineering, University of Minho, Braga, Portugal
(2)
Department of Informatics/CCTC, University of Minho, Braga, Portugal
(3)
Department of Biological Engineering/Computer Science and Artificial Intelligence Laboratory, Massachusetts Institute of Technology, Cambridge, USA
Copyright
© Machado et al; licensee Springer. 2011
This article is published under license to BioMed Central Ltd. This is an Open Access article distributed under the terms of the Creative Commons Attribution License (http://creativecommons.org/licenses/by/2.0), which permits unrestricted use, distribution, and reproduction in any medium, provided the original work is properly cited.