Transaminases for the synthesis of enantiopure beta-amino acids
Received: 20 January 2012
Accepted: 31 January 2012
Published: 31 January 2012
Abstract
Optically pure β-amino acids constitute interesting building blocks for peptidomimetics and a great variety of pharmaceutically important compounds. Their efficient synthesis still poses a major challenge. Transaminases (also known as aminotransferases) possess a great potential for the synthesis of optically pure β-amino acids. These pyridoxal 5'-dependent enzymes catalyze the transfer of an amino group from a donor substrate to an acceptor, thus enabling the synthesis of a wide variety of chiral amines and amino acids. Transaminases can be applied either for the kinetic resolution of racemic compounds or the asymmetric synthesis starting from a prochiral substrate. This review gives an overview over microbial transaminases with activity towards β-amino acids and their substrate spectra. It also outlines current strategies for the screening of new biocatalysts. Particular emphasis is placed on activity assays which are applicable to high-throughput screening.
Keywords
transaminasebeta-amino acidhigh-throughput screeningbiocatalysis
Introduction
Since the discovery of transamination in biological systems (Braunstein and Kritzmann 1937Moyle Needham 1930) the significance of transaminases (TAs) for amino acid metabolism has been the subject of intensive research. Over the last 15 years, TAs have gained increasing attention in organic synthesis for the biocatalytic production of a wide variety of chiral amines and α-amino acids. This has been discussed in detail in a series of excellent reviews (Höhne and Bornscheuer 2009; Koszelewski et al. 2010; Taylor et al. 1998; Ward and Wohlgemuth 2010). Advantages in the use of TAs lie in mostly low-cost substrates, no necessity for external cofactor recycling and the enzymes' high enantioselectivity and reaction rate. For the synthesis of enantiopure β-amino acids only a limited number of TAs are available. Therefore efficient screening techniques for TAs with high activities as well as broader substrate specificity and different enantioselectivities are crucial for the successful application of transaminases for the synthesis of β-amino acids. Of particular interest are methods that can be used at small scale compatible with microtiter plates.
Enantiopure β-amino acids represent highly valuable building blocks for peptidomimetics and the synthesis of bioactive compounds. In order to distinguish positional isomers of β-amino acids, the terms β
2
-, β
3
- and β
2,3
-amino acids have been introduced by Seebach and coworkers (
Hintermann and Seebach 1997
;
Seebach et al. 1997
). With the exception of β-alanine and β-aminoisobutyric acid which constitute key intermediates in several metabolic pathways, β-amino acids are not as abundant in nature as α-amino acids. However, they occur as essential parts in a variety of biologically active compounds. Notable representatives are the antineoplastic agent paclitaxel (= Taxol™, Bristol-Myers Squibb) (
Wani et al. 1971
) and the chromophore of C-1027 (= lidamycin), a radiomimetic antitumor agent (
Hu et al. 1988
) (Figure
1a
). β-Amino acids have drawn much attention as building blocks for synthetic peptides. They can form oligomers analogous to α-peptides with one additional carbon atom in the oligomer backbone (Figure
1b
). These β-amino acid oligomers (= β-peptides) can form highly ordered secondary structures analogous to α-peptides (
Iverson 1997
;
Koert 1997
;
Seebach et al. 1996
;
Seebach and Matthews 1997
). β-Peptides are not recognized by most peptidases and thus not cleaved leading to a much higher
in vivo
stability compared to α-peptides (
Frackenpohl et al. 2001
;
Gopi et al. 2003
;
Hintermann and Seebach 1997
;
Hook et al. 2004
). It has also been observed that the substitution of only a few α-amino acids in a peptide by the corresponding β-amino acid lowers the proteolytic susceptibility (
Horne et al. 2009
;
Steer et al. 2002
). Apparently, the β-residues in mixed α/β-peptides tend to protect nearby amides from proteolytic cleavage. Interestingly, such mixed α/β-peptides often retain their biological activity (
Aguilar et al. 2007
;
Horne et al. 2009
;
Montero et al. 2009
;
Nurbo et al. 2008
Seebach and Gardiner 2008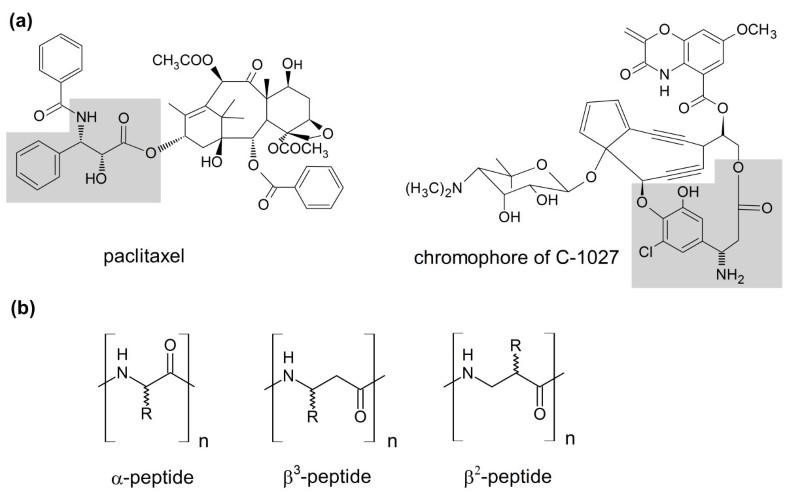 A plethora of chemical approaches have been established to produce chiral β-amino acids including (1) the resolution of racemic β-amino acids, (2) the use of naturally occurring chiral α-amino acids, and (3) asymmetric synthesis (Liu and Sibi 2002). As resolutions of racemic mixtures are complex and time-consuming procedures, the chiral pool of natural α-amino acids is limited and catalysts or chiral auxiliaries cause high costs, all of these strategies have their limitations when applied on an industrial scale (Weiner et al. 2010).
Several enzymes have successfully been tested to produce enantiopure β-amino acids from different starting compounds (for an overview see Liljeblad and Kanerva 2006). Most strategies resemble kinetic resolutions of N-acylated or esterified β-amino acids by hydrolytic enzymes, e.g. lipases (Tasnádi et al. 2008). Although industrially applied for certain products, this strategy is limited to a maximum yield of 50%, and so is the recently tested β-amino acid synthesis via Bayer-Villiger monooxygenases (Rehdorf et al. 2010). As the latter enzymes are cofactor (NADPH) dependent, these processes rely on cofactor recycling which is achieved by whole cell biotransformations, assumingly leading to side products as well as transport limitations depending on the substrate which moreover needs to be N-protected.
Two other novel approaches seem to be more promising as they - at least theoretically - can lead to a 100% conversion of the substrates used and thus overcome the inherent drawback of kinetic resolutions with the above described enzymes:
(1)

Various aminomutases have been used for the conversion of aliphatic and aromatic α-amino acids to the corresponding β-isomers (for an overview see Wu et al. 2010a). Coupling the catalysis of a promiscuous alanine racemase with that of phenylalanine aminomutase (PAM) increased the production of enantiopure (R)-β-arylalanines from the corresponding racemic α-isomers (Cox et al. 2009). Using PAM in tandem with a phenylalanine ammonia lyase (PAL), various aromatic (S)-β-amino acids can be obtained (Wu et al. 2010b). These latter studies deal with one potential pitfall of utilizing these enzymes which lies in the reaction's equilibrium and the thus limited final yields of the desired products. Another limitation for application in industry is the usually low activity, leading to quite slow conversions. Moreover, many otherwise promising aminomutases require multiple expensive cofactors and strictly anaerobic conditions Wu et al. 2010a.

(2)

A modification of the well established hydantoinase process is investigated for the production of enantiopure β-amino acids from dihydropyrimidine derivatives (Engel et al. 2011). The stereoselective hydrolysis of racemic phenyldihydrouracil to D- and L-N-carbamoyl-β-phenylalanine was shown which can be further hydrolyzed to the corresponding β-amino acid. However, at the moment this process lacks a suitable racemase (or alternatively an efficient chemical racemization) to gain a 100% yield.
In conclusion, even though several chemical and enzymatic routes (and chemo-enzymatic tandems) are applied and under intense investigation, there still is no gold standard for the preparation of enantiopure β-amino acids.
TAs can be applied either in the kinetic resolution of racemic β-amino acids (Figure
2a
) or in asymmetric synthesis starting from the corresponding prochiral β-keto-substrate (Figure
2b
). By asymmetric synthesis, a theoretical yield of 100% is possible. However, unlike α-keto acids, β-keto acids decarboxylate relatively easily under mild conditions in a mechanism involving a cyclic transition state (
Bach and Canepa 1996
). Therefore
in-situ
synthesis would be necessary. This can be achieved by enzymatic hydrolysis of the corresponding β-keto ester, as was already shown using a commercially available lipase from
Candida rugosa
(
Kim et al. 2007
) and a hog liver esterase (
Banerjee et al. 2005
).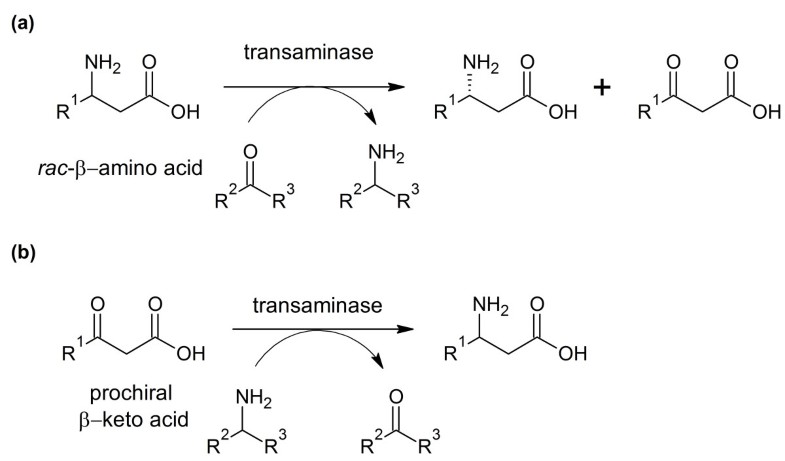 Conclusions and future areas of research
TAs possess a great potential for the enzymatic synthesis of enantiopure β-amino acids as these enzymes offer the possibility to gain a 100% yield in contrast to the conventional kinetic resolutions using other biocatalysts (see introduction). Transaminases are commonly used tools in the synthesis of various chemicals and pharmaceuticals. Thus production and purification of these enzymes in bulk quantities is well-established, and so is immobilization. Additionally, several process parameters for biotechnological applications are well investigated for both kinetic resolutions and asymmetric syntheses, e.g. the usage of different (co-)solvents and variation of pH and PLP concentration as well as different strategies of product removal (Koszelewski et al. 2008). Of special importance are the thoroughly tried and tested methods to shift the equilibrium to the product side by removal of the coproduct (kinetic resolutions) or degradation of the coproduct/recycling of the amino donor by different enzymes in asymmetric synthesis (Koszelewski et al. 2010).
All these benefits for technical applications are not established with aminomutases and only in part with hydantoinases (as described above), so TAs appear as the most promising candidates among the potential biocatalysts for a 100% yield synthesis of β-amino acids.
A key step in fulfilling this potential is the discovery of new TAs with a broader substrate spectrum and different enantioselectivity. This will be greatly facilitated by the HTP-activity assays described in this article, which allow for time and cost efficient screening, characterization and enzyme optimization. As has been discussed, transaminases which act on aliphatic β-amino acids are abundant, while only a small number of transaminases which act on aromatic β-amino acids have been described. The application of protein engineering to enhance the activity of TAs towards aromatic β-amino acids has been only moderately successful. The crystal structure of the transaminase of Mesorhizobium sp. LUK will lead to a more targeted approach in protein engineering.
Little attention so far has been paid to the preparation of the thermodynamically instable β-keto substrate. A possible route is the enzymatic hydrolysis of the corresponding β-keto-ester. Although such a route has already been described (Banerjee et al. 2005Kim et al. 2007) further optimization will be necessary for the development of efficient processes as the reported yields are quite low (~20%). This might be due to the loss of the intermediary β-keto acid via decarboxylation to acetophenone (which is not discussed in Kim et al. 2007).
This instability of the potential substrates indeed appears as the bottleneck in β-amino acid synthesis via transaminases. A more elegant solution could be obtained by changing the sequence in this coupled enzyme reaction: If the TA accepts the stable β-keto ester (1) the intermediary synthesis of the β-keto acid can be circumvented and (2) the adjacent application of an enantioselective lipase to subsequently cleave the intermediary chiral β-amino acid ester would further enhance the ee value. As the authors assume this can not happen in the reported reaction due to a mandatory anchoring of the substrate's carboxylic group by one of the two binding pockets around the PLP-lysine Schiff base (the external aldimine intermediate) which is certainly not possible with the esterified substrate (Kim et al. 2007).
However, advances in protein design and substrate modeling might help to overcome this problem, as for example the excavation of the small pocket of the commonly used transaminase ATA-117 allowed the (R)-selective amination of prositagliptin ketone to the antidiabetic compound sitagliptin (Savile et al. 2010) which was not successful before using a variety of unmodified TAs due to sterical hindrance.
Not least, the potential of TAs for the asymmetric synthesis of β-amino acids can be assumed to be even much higher, as most of the numerous commercially available TAs have never been tested with β-amino acids or β-keto acids as substrates (the latter due to their instability mentioned above). So the conclusive key step will be a modification of the HTP-assays described to allow a fast and comprehensive screening for β-TA activity.
Declarations
Acknowledgements
We would like to thank the "Bundesministerium für Bildung und Forschung" (BMBF) for the financial support of this work within the joint project ''BioSysPro'': New enzymes and processes for biobased products via the integration of biotechnological and chemical methods.
Authors' Affiliations
(1)
Institute of Process Engineering in Life Sciences, Section II: Technical Biology, Karlsruhe Institute of Technology (KIT), Karlsruhe, Germany
Copyright
© Rudat et al; licensee Springer. 2012
This article is published under license to BioMed Central Ltd. This is an Open Access article distributed under the terms of the Creative Commons Attribution License (http://creativecommons.org/licenses/by/2.0), which permits unrestricted use, distribution, and reproduction in any medium, provided the original work is properly cited.