Original article

Open Access
Effect of long-term fertilization strategies on bacterial community composition in a 35-year field experiment of Chinese Mollisols
Received: 28 November 2017
Accepted: 5 February 2018
Published: 13 February 2018
Abstract
Bacteria play vital roles in soil biological fertility; however, it remains poorly understood about their response to long-term fertilization in Chinese Mollisols, especially when organic manure is substituted for inorganic nitrogen (N) fertilizer. To broaden our knowledge, high-throughput pyrosequencing and quantitative PCR were used to explore the impacts of inorganic fertilizer and manure on bacterial community composition in a 35-year field experiment of Chinese Mollisols. Soils were collected from four treatments: no fertilizer (CK), inorganic phosphorus (P) and potassium (K) fertilizer (PK), inorganic P, K, and N fertilizer (NPK), and inorganic P and K fertilizer plus manure (MPK). All fertilization differently changed soil properties. Compared with CK, the PK and NPK treatments acidified soil by significantly decreasing soil pH from 6.48 to 5.53 and 6.16, respectively, while MPK application showed no significant differences of soil pH, indicating alleviation of soil acidification. Moreover, all fertilization significantly increased soil organic matter (OM) and soybean yields, with the highest observed under MPK regime. In addition, the community composition at each taxonomic level varied considerably among the fertilization strategies. Bacterial taxa, associated with plant growth promotion, OM accumulation, disease suppression, and increased soil enzyme activity, were overrepresented in the MPK regime, while they were present at low abundant levels under NPK treatment, i.e. phyla Proteobacteria and Bacteroidetes, class Alphaproteobacteria, and genera Variovorax, Chthoniobacter, Massilia, Lysobacter, Catelliglobosispora and Steroidobacter. The application of MPK shifted soil bacterial community composition towards a better status, and such shifts were primarily derived from changes in soil pH and OM.
Keywords
Soil degradation
Fertilization
Bacterial community
Illumina MiSeq
qPCR
Introduction
Mollisols (black soils) are widely distributed in the northeast of China and are considered to be highly fecund and productive (Wei et al. 2008). However, these soil have degenerated over time due to intensive fertilizer application (Liu et al. 2015). The widespread use of inorganic fertilizers has also reduced black soil quality and overall environmental health since large scale reclamation was initiated around the middle of the last century (Yin et al. 2015). Take soil OM for example, the original level of soil OM content on the top layer (0–20 cm) is about 10% or more, as soil OM accumulates faster than it is decomposed during the relative cold seasons (Wen and Liang 2001). After farming started, soil OM content drastically dropped to half of its original level in 20–30 years, and now stabilized at 2–4%. In addition, overuse of N fertilizer has caused soil acidification, as well as a reduction in soil microbial biomass and bacterial diversity (Guo et al. 2010). Our previous studies found that long-term N application changed the microbial community composition in black soils by reducing bacterial and fungal diversity and the bacteria to fungi ratio, which led to soil degradation (Zhou et al. 2015, 2016; Ding et al. 2016). Constant N input can also lead to changes in plant species composition and a loss of plant diversity (Clark et al. 2007). In response to soil degradation associated with excessive inorganic N fertilizer, reductions in inorganic N input have been advocated.
In contrast to inorganic N fertilizers, the benefits of organic fertilizer for agricultural production and soil fertility cannot be overemphasized. Organic fertilizer can increase soil organic carbon and total N (TN) (He et al. 2015), improve soil aggregate stability (Xie et al. 2015) and have residual N effects in subsequent years (Schröder et al. 2007). Manure, an important source of organic matter, can improve disordered bacterial community structures in soil that result from the overuse of inorganic fertilizer (Ai et al. 2015), thereby improving soil quality (Davidson 2009). Several studies have explored the influence of fertilization on plant communities, soil properties, microbial community structure, and microbial activity (Hallin et al. 2009; Ramirez et al. 2010; Wertz et al. 2012; Hartmann et al. 2013; Zhong et al. 2015). However, little is known about the overall impacts of different fertilization strategies on bacterial community composition, especially when manure is substituted for inorganic N fertilizer. In this study, soils were collected from a 35-year field experiment of Chinese Mollisols, which was ideal for investigating the effects of fertilization strategies on soil microorganisms (Geisseler and Scow 2014). We used high-throughput pyrosequencing and qPCR technology to describe soil bacterial community composition under organic manure and inorganic fertilizer regimes. Here, we hypothesize that (1) bacterial community composition and abundance differ among fertilization strategies due to altered soil properties, especially soil pH and OM; and (2) manure shifts soil bacterial communities towards a better status, whereas inorganic fertilizer has the opposite effect. In summary, understanding the responses of bacterial community composition to different fertilization strategies is an effective way to reveal the relationship between intensive fertilization and black soil degradation. The results highlight the potential use of manure for sustainable development in Chinese Mollisols.
Results
Soil properties and soybean yields
The three fertilization strategies significantly increased concentrations of AP, AK, TP and TK (Table
1
). Compared with CK, both NPK and MPK treatments increased the concentrations of NO
3
−
and TN. NPK and PK significantly decreased soil pH from 6.48 to 5.53 and 6.16, respectively, while the MPK application alleviated soil acidification. Moreover, MPK treatment also had an accumulative effect on soil OM. In addition, soybean yields were significantly higher under the fertilization regimes, with the MPK application being the most effective strategy (2702 kg ha
−1
).
Table 1
Soil properties and soybean yields of different fertilization strategies
| Fertilization strategy | pH | OM (g kg−1) | AK (g kg−1) | TK (g kg−1) | NH4+ (mg kg−1) | NO3− (mg kg−1) | TN (g kg−1) | AP (g kg−1) | TP (g kg−1) | Soybean yield (kg ha−1) |
| --- | --- | --- | --- | --- | --- | --- | --- | --- | --- | --- |
| CK | 6.43 ± 0.08c | 24.39 ± 0.37a | 0.17 ± 0.03a | 6.30 ± 0.89a | 35.01 ± 1.16a | 2.45 ± 0.88a | 1.20 ± 0.05a | 0.02 ± 0.01a | 0.44 ± 0.03a | 1812.67 ± 141.99a |
| PK | 6.18 ± 0.04b | 25.51 ± 0.30c | 0.24 ± 0.01b | 28.57 ± 2.25b | 37.80 ± 2.95a | 3.62 ± 0.57b | 1.26 ± 0.03a | 0.89 ± 0.04c | 0.73 ± 0.02c | 2377.33 ± 118.85bc |
| NPK | 5.54 ± 0.04a | 24.88 ± 0.25b | 0.23 ± 0.03b | 30.36 ± 1.02b | 37.30 ± 6.29a | 4.53 ± 0.91bc | 1.43 ± 0.08b | 0.94 ± 0.06d | 0.70 ± 0.02bc | 2241.33 ± 186.11b |
| MPK | 6.38 ± 0.05c | 27.47 ± 0.41d | 0.23 ± 0.03b | 28.43 ± 3.93b | 39.36 ± 6.95a | 5.17 ± 0.67c | 1.20 ± 0.03a | 0.66 ± 0.01b | 0.61 ± 0.05b | 2702.67 ± 169.39c |
16S rRNA gene abundances
The effect of different fertilization strategies on 16S rRNA gene abundances was assessed. The number of gene abundances ranged from 8.69 × 10
9
to 1.59 × 10
10
g
−1
soil (Fig.
1
). PK and MPK treatments significantly increased, whereas NPK treatment decreased the number of 16S rRNA gene abundances compared with CK.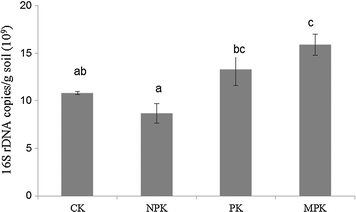 Abbreviations
N:

nitrogen
P:

phosphorus
K:

potassium
CK:

no fertilizer
PK:

inorganic phosphorus and potassium fertilizer
NPK:

inorganic phosphorus, potassium and nitrogen fertilizer
MPK:

inorganic phosphorus and potassium fertilizer plus manure
OM:

organic matter
TN:

total nitrogen
TK:

total potassium
AK:

available potassium
TP:

total phosphorus
AP:

available phosphorus
OTUs:

operational taxonomic units
PCoA:

principal coordinates analysis
LEfSe:

linear discriminant analysis coupled with effect size
LDA:

the linear discriminant analysis
RDA:

redundancy analysis
Declarations
Authors' contributions
MO, JL and XJ conceived the experiments. MM, JZ and DW conducted the experiments and analyzed the results. MM, BZ and DG interpreted data. MO and WL edited the manuscript. And MM wrote the manuscript. All authors read and approved the final manuscript.
Acknowledgements
We wish to thank Wei-Qun Li of the Heilongjiang Academy of Agricultural Sciences for fieldwork assistance. We also thank the University of Liège-Gembloux Agro-Bio Tech and more specifically the research platform AgricultureIsLife for the funding of the scientific stay in Belgium that made this paper possible.
Competing interests
The authors declare that they have no competing interests.
Availability of data and materials
Data will not be shared now and will be shared in future after completing full research on it.
Consent for publication
Not applicable.
Ethics approval and consent to participate
Not applicable.
Funding
This work was supported by the National Natural Science Foundation of China (Nos. 41573066 and 31200388), the National Key Basic Research Program of China (973 Program: 2015CB150506), the Fundamental Research Funds for Central Non-profit Scientific Institution (No. 1610132017010), and Natural Science Foundation of Shandong Province (ZR2015CL015).
Publisher's Note
Springer Nature remains neutral with regard to jurisdictional claims in published maps and institutional affiliations.
Open AccessThis article is distributed under the terms of the Creative Commons Attribution 4.0 International License (http://creativecommons.org/licenses/by/4.0/), which permits unrestricted use, distribution, and reproduction in any medium, provided you give appropriate credit to the original author(s) and the source, provide a link to the Creative Commons license, and indicate if changes were made.
Authors' Affiliations
(1)
Institute of Agricultural Resources and Regional Planning, Chinese Academy of Agricultural Sciences, Beijing, China
(2)
Microbial Processes and Interactions Research Unit, Gembloux Agro-Bio Tech, University of Liège, Gembloux, Belgium
(3)
Laboratory of Quality & Safety Risk Assessment for Microbial Products, Ministry of Agriculture, Beijing, China
(4)
The Institute of Soil Fertility and Environmental Sources, Heilongjiang Academy of Agricultural Sciences, Harbin, People's Republic of China