Research Article

Open Access
Identification and characterization of endophytic bacteria from corn (Zea mays L.) roots with biotechnological potential in agriculture
Received: 4 August 2013
Accepted: 23 January 2014
Published: 7 May 2014
Abstract
Six endophytic bacteria of corn roots were identified as Bacillus sp. and as Enterobacter sp, by sequencing of the 16S rRNA gene. Four of the strains, CNPSo 2476, CNPSo 2477, CNPSo 2478 and CNPSo 2480 were positive for the nitrogen fixation ability evaluated through the acetylene reduction assay and amplification of nifH gene. Two Bacillus strains (CNPSo 2477 and CNPSo 2478) showed outstanding skills for the production of IAA, siderophores and lytic enzymes, but were not good candidates as growth promoters, because they reduced seed germination. However, the same strains were antagonists against the pathogenic fungi Fusarium verticillioides, Colletotrichum graminicola, Bipolaris maydis and Cercospora zea-maydis. As an indication of favorable bacterial action, Enterobacter sp. CNPSo 2480 and Bacillus sp. CNPSo 2481 increased the root volume by 44% and 39%, respectively, and the seed germination by 47% and 56%, respectively. Therefore, these two strains are good candidates for future testing as biological inoculants for corn.
Keywords
Molecular phylogeny
16S rRNA
nifH
Plant growth promotion
Antagonism
Introduction
Literature shows that some bacteria, which live attached to plants have the ability to promote plant growth (Compant et al. [2010]; George et al. [2012]; Beneduzi et al. [2013]). These microorganisms have attracted attention because of the need to reduce the use of chemicals, especially when considering the context of sustainable agriculture and environmental protection (Vale et al. [2010]). One of the strategies is to exploit the benefits that several microorganisms may give to plants when added as inoculants (Lucy et al. [2004]).
Bacteria promoting plant growth can act directly, through one or more mechanisms, including biological nitrogen fixation (Ashraf et al. [2011]; Verma et al. [2013]), phosphate solubilization (Rodriguez et al. [2004]; Krey et al. [2013]), production of hormones such as auxins, gibberellins and zeatin (Cassan et al. [2009]), or act indirectly by means of biological control of pathogens (Wang et al. [2009]). In addition, some studies point out to the preferred action with endophytic microorganisms or adapted isolates, due to easier colonization and the lower risk to introduce exogenous organisms (Enebak et al. [1998]; Khalid et al. [2004]).
Several studies have shown the positive effects of endophytic bacteria inoculation in plants, e.g. sugarcane (Saccharum spp.), leading to increased contribution of biological nitrogen fixation, to promotion of root development, increased biomass and productivity (Oliveira et al. [2003]); soybean (Glycine max (L.) Merr.), with bacteria capable to inhibit growth and sporulation of pathogenic fungi (Assumpção et al. [2009]); tomato (Lycopersicum esculentum L.), with bacteria increasing plant height, leaf area, leaf number, together with fresh and dry plant weight (Barreti et al. [2008]).
Benefits provided by the inoculation of corn (Zea mays L.) with selected strains have also been described, including the promotion of growth due to the increased availability of nutrients, provided by inoculation with B. subtilis in seeds (Canbolat et al. [2006]). In addition, there are reports of strains of Azospirillum brasilense increasing corn yield by 24% to 30%, compared to the non-inoculated control (Hungria et al. [2010]).
However, for the selection of isolates that have a greater chance of being efficient in the process of colonization and growth promotion, the isolates have first to be identified with preliminary in vitro biochemical analysis (Pal et al. [2001]; Berg et al. [2002]; Bernardes et al. [2010]).Taxonomy of selected microorganisms with biotechnological potential in agriculture is thus a key step and, for this reason, sequencing of the 16S rRNA has been successfully used to identify genera such as Bacillus (Porwal et al. In [2009], Deepa et al. [2010]), Rhizobium, Burkholderia (Ferreira et al. [2011]), Enterobacter, Pantoea Serratia, among others (Tian et al. [2009]).
The aim of this study was to evaluate and characterize the properties of endophytic bacteria isolated from corn roots, with the potential to have biotechnological interest for their use in agriculture.
Results
Molecular phylogeny of the bacterial isolates
After aligning the sequences of the gene 16S rRNA, a region of 1512 bp was used for phylogenetic analysis, along with type strains taken from the RDP. Strain CNPSo 2480 grouped with the
Enterobacter
branch with 100% Bayesian posterior probability (BPP). This same strain had a 96% BPP and 98% similarity with type strain
E. asburiae
JCM6051
T
. The six other bacterial strains belong to the genus
Bacillus
. Among them, CNPSo 2481 showed 100% BPP and 98% similarity with
B. pumilus
DSMZ27
T
(Figure
1
).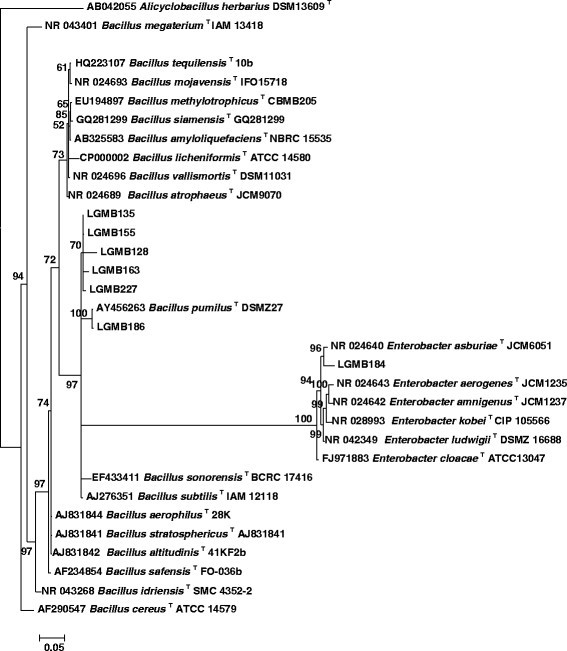 The sequences of strains CNPSo 2479 (LGMB227), CNPSo 2476 (LGMB163), CNPSo 2477 (LGMB128), CNPSo 2480 (LGMB184), CNPSo 2481 (LGMB186), CNPSo 2475 (LGMB155), CNPSo 2478 (LGMB135) were deposited at the Genbank and received the accession numbers of JQ821359 to JQ821365.
Amplification of nifH gene
Strains Bacillus CNPSo 2477 and CNPSo 2476 were positive for nifH gene amplification (primers nifH F and nifH I), producing an amplified fragment of about 780 bp. Enterobacter sp. CNPSo 2480 was positive for the two pairs of primers tested (nifH F and nifH I; nifH- F and nifH- R). Bacillus sp CNPSo 2478, amplified with the second primer, resulted in a fragment of about 400 pb.
Enzymatic and physiological characterization of bacteria
In relation to the nitrogen fixation capacity evaluated in vitro, all strains were able to grow in NFb semi-solid medium and showed the typical pellicle. But only Enterobacter sp. CNPSo 2480 showed the ability to reduce acetylene to ethylene in NFb N-free semi-solid medium. Bacillus CNPSo 2476, CNPSo 2477and CNPSo 2478 showed the same property in TBNR and LGD.
Only Enterobacter sp. CNPSo 2480 did not produce siderophore and Bacillus sp. CNPSo2481 produced ammonia.
All strains were positive for IAA production with values between 35.1 and 96.3 μg/mL, especially Bacillus CNPSo 2477 and CNPSo 2478, with 105.2 and 105.11 μg/mL respectively.
Lytic enzymes activities were detected in the following strains: cellulase CNPSo 2477, CNPSo 2475 and CNPSo 2476; amylase CNPSo 2477, CNPSo 2478, CNPSo 2475 and CNPSo 2476; pectinase CNPSo 2477, CNPSo 2478, CNPSo 2475, CNPSo 2476 and CNPSo 2479; protease, for degradation of casein CNPSo 2478, CNPSo 2475, CNPSo 2476, CNPSo 2481 and CNPSo 2479. All strains were negative for all phosphate solubilization tests, production of HCN, chitinase and β1,3-glucanase.
Antifungal activity
The seven bacterial strains significantly reduced the growth of fungi, with inhibition above 70% of the following pathogens: CNPSo 2477 (B. maydis, C. graminicola and C. zea-maydis); CNPSo 2478 (B. maydis and C. graminicola); CNPSo 2475 (C. zea-maydis); and CNPSo 2476, CNPSo 2480, CNPSo 2481, CNPSo 2479 (C. graminicola and C. zea-maydis).
Germination of inoculated corn seeds
The inoculation resulted in 107 CFU/seed. The strains Bacillus sp. CNPSo 2477 and CNPSo 2478 reduced the germination percentage by about 27%. In contrast, germination increased to approximately 52% with CNPSo 2475, CNPSo 2480 and CNPSo 2481. CNPSo 2476 and CNPSo 2479 increased germination to about 36.5% and 15.8%, respectively. The bacteria CNPSo 2476, CNPSo 2480 and CNPSo 2481 promoted root volume increases (14.6%, 43.9% and 39.02% respectively). CNPSo 2480 and CNPSo 2481 also promoted an increment in root length. No changes were observed in hypocotyl length and volume.
Discussion
Sequencing of 16S rRNA allows the accurate identification of bacterial genera endophytes from various plant species, including: sugar cane (Ratón et al. [2011]), corn (Pereira et al. [2011]) and rice (Oryza sativa L.) (Beneduzi et al. [2008]). However, for the precise definition of species and even subspecies such as Bacillus subtilis the analysis of other genes, such as gyrA (Chun and Bae [2000]) is needed.
All strains from this study showed an indication of the nitrogen fixation by the formation of the typical pellicule in semi-solid N-free medium. However, in only four strains (CNPSo 2476, CNPSo 2477, CNPSo 2478 and CNPSo 2480) the nifH gene was amplified. The nitrogen fixation genes are found in different phylogenetic groups (Affourtit et al. [2001]). Among them, nifH is one of the oldest and most functional (Rosado et al. [1998]) and its amplification by degenerative primers is a useful tool to confirm fixation potential (Zehr et al. [1996]). However, if amplification does not occur with these primers, it does not mean that the strains are not capable of nitrogen fixation, because the gene may have different nucleotide sequences between species and even within the same species Zehr et al. ([2003]). In our study, the four strains that amplified nifH with different primers were also positive to the ARA test. This result indicated that strains have the possibility to fix nitrogen. Montañez et al. ([2009]) also verified the same situation in bacteria with nitrogen fixation capability by the reduction of acetylene to ethylene and confirmed by PCR the presence of nifH gene. The group of Bacilli was reported to be capable of nitrogen fixation, Ratón et al. ([2011]) and Rana et al. ([2011]) working with ARA-positive strains, indicated suitable environments for searching new inoculants or candidates for biotechnological purposes.
In our study, all strains produced IAA, although in different amounts. Bacteria that produced lower levels (CNPSo 2480 and CNPSo 2481), had bigger influence on root elongation and root volume, characteristics of great interest that provide greater surface area for the absorption of nutrients. The effects of the auxin depend on its concentration, i.e. when it is low it can stimulate growth and when it is high can be inhibitory, same for seed germination (Arshad and Frankenberger [1991]). This may occur because the IAA can modify the endogenous auxin of the plant to an optimal or deleterious level (Patten and Glick [1996]). For example, Sarwar and Kremer ([1995]), by comparing the production of auxin between promoting and inhibiting bacteria growth, noted that the latter produced high levels and inhibited root growth of Convolvulus arvensis; Baranzani and Friedman ([1999]) observed the same effect with lettuce (Lactuca sativa L.). Araujo and Guerreiro ([2010]), working with Bacillus, found that most strains of corn identified as growth promoters did not correspond to those producing higher levels of IAA. The species Pseudomonas fluorescens, whose production of IAA was only 15.63 μg/mL, increased root length in corn plants, according to Hernández-Rodríguez et al. ([2008]).
The ability to produce siderophores has been reported in Bacillus (Pereira and Castro-Silva, [2010]; Kumar and Kumar [2012]) and Enterobacter (Tian et al. [2009]; Arruda et al. [2013]). Out of the strains tested in this study, only Enterobacter sp. (CNPSo 2480) did not produce siderophores. Siderophores produced by bacteria that promote plant growth may act through two mechanisms: directly promoting growth, as iron availability to plants is generally low, therefore organic chelators produced by bacteria will help absorption (Powell et al. [1980]), and indirectly, by inhibiting the availability of iron to pathogens, thereby limiting pathogen growth (Ahmad et al. [2008]).
Lytic enzymes such as β-1,3-glucanases, cellulases, proteases, amylases and chitinases are connected to hyper-parasitic activities (Kim and Chung [2004]) since they have the ability to degrade structural fungal cell walls (Oppenheim and Chet [1992]). Pectinases, as well as cellulases, also assist in penetration of bacteria into the plant host. They can also promote the induction of systemic resistance (Hallmann et al. [1997]). In our study, these enzymes were detected in strains of the genus Bacillus, corroborating Ratón et al. ([2011]). The inhibitory action on fungal pathogens can also be related to the ammonia released by bacteria, as reported by Fravel ([1988]) with Enterobacter cloacae on Verticillium dahliae and Pythium ultimum.
In Brazil, among the field phytopathogens that affect corn, F. verticilliodes is the most common (Peixoto et al. [1998]). The following pathogens are also common: C. graminicola, B. maydis (Pinto [1998]) and C. zea-maydis, and have become more important in recent decades in Brazil (Pereira et al. [2005]). Among the strains tested in our study, Bacillus sp. CNPSo 2477 and CNPSo 2476 were the most efficient in the inhibition against all four fungi tested. They are known to have an antagonist effect against various fungi, for example, F. moniliforme, F. graminearum, M. phaseolina (Pal et al. [2001]), F. oxysporum and Colletotrichum truncatum (Araujo and Guerreiro [2010]). One of the advantages of the biological control strategy using endophytic bacteria is that they can act in the same niche, in direct competition with the pathogens (Bacon and Hinton, [2002]).
Based on the 16 s rRNA sequence, the endophytic bacteria from our study were identified as Enterobacter asburie and Bacillus pumilus, while the other strains were confirmed as belonging to the genus Bacillus. We found that Bacillus CNPSo 2477 and CNPSo 2476 have good antagonist performance against corn phytopathogens. We also showed that Bacillus sp. CNPSo 2481 and Enterobacter sp. CNPSo 2480, have shown the ability to promote plant growth, leading to increases in the percentage of seed germination and improving the early development of seedlings. Therefore, these strains are very promising for use as inoculants in corn. Future studies are needed to test the biotechnological potential of these strains under field conditions, in the hope that they will contribute as an alternative source of biological fertilizer and biological control. It is also interesting to investigate which mechanisms would be related to fungal inhibition activity detected in our study.
Declarations
Acknowledgments
Our thanks go to: Semilia Genetics and Breeding LTDA, specially Dr. Francisco Terasawa Junior, for experiments in obtaining fungal strains. Also, the team of the Biotechnology Laboratory of Embrapa Soybean Soil, namely Jacqueline Delamuta and Renan Ribeiro, for support with the sequencing. Renata Rodrigues Gomes and Maicon Wons Andrew Fernandes, for their help in the antagonism tests. This work had financial support from the National Council for Scientific and Technological Development (CNPq), Project Repensa (562008/2010-2) and Coordination for the Improvement of Higher Education Personnel (CAPES).
Authors' Affiliations
(1)
Departamento de Genética, Universidade Federal do Paraná (UFPR), Setor de Ciências Biológicas, Curitiba, Brazil
(2)
Embrapa Soja, Londrina, Brazil
Copyright
© Szilagyi-Zecchin et al.; licensee Springer 2014