An economic and ecological perspective of ethanol production from renewable agro waste: a review
Received: 21 November 2012
Accepted: 26 November 2012
Published: 7 December 2012
Abstract
Agro-industrial wastes are generated during the industrial processing of agricultural products. These wastes are generated in large amounts throughout the year, and are the most abundant renewable resources on earth. Due to the large availability and composition rich in compounds that could be used in other processes, there is a great interest on the reuse of these wastes, both from economical and environmental view points. The economic aspect is based on the fact that such wastes may be used as low-cost raw materials for the production of other value-added compounds, with the expectancy of reducing the production costs. The environmental concern is because most of the agro-industrial wastes contain phenolic compounds and/or other compounds of toxic potential; which may cause deterioration of the environment when the waste is discharged to the nature. Although the production of bioethanol offers many benefits, more research is needed in the aspects like feedstock preparation, fermentation technology modification, etc., to make bioethanol more economically viable.
Keywords
BioethanolLignocellulosic wasteImmobilizationMutagenesisSSF
Introduction
Since the late 19th century, the mean temperature on earth has increased with 0.8°C and the major part of this increase is likely due to anthropogenic emissions of greenhouse gases. Carbon dioxide is the type of greenhouse gas with largest emission and this originates from the combustion of fossil fuels as coal, oil and natural gas (Sun and Cheng2002). In USA, transportation accounts for 30% of the total energy consumption. Burning fossil fuels such as coal and oil releases CO2, which is a major cause of global warming. With only 4.5% of the world's population, the US is responsible for about 25% of global energy consumption and 25% of global CO2 emissions. The average price of gasoline in 2005 was $2.56 per gallon, which was $0.67 higher than the average price of gasoline in the previous year. Yet in June 2008, the average price of gasoline in the US reached $4.10 per gallon (Kumar et al.2009).
Soaring oil prices associated with concerns of climate change and national energy security are driving us to utilize sustainable alternative energy sources, such as solar energy, nuclear energy, wind energy, hydropower, tidal energy, and so on (Lynd et al.2003). With the inevitable depletion of world's energy supply, there has been an increasing interest worldwide in alternative sources of energy. Unlike fossil fuels, ethanol is a renewable energy source produced through fermentation of sugars and used as a partial gasoline replacement in a few countries of the world (Sharma et al.2007).
Bioethanol market is expected to reach 100 x109 liters in 2015. The largest producers in the world are the US, Brazil, and China. In 2009, US produced 39.5x109 liters of ethanol using corn as a feedstock while the second largest producer, Brazil, created about 30x109 liters of ethanol using sugarcane. China is a country that has invested much in the production of ethanol, and is nowadays one of the largest ethanol producers (Ivanova et al.2011).
Ethanol contains 35% oxygen, which results in a complete combustion of fuel and thus lowers the emission of harmful gases. Moreover, ethanol production uses energy from renewable sources only; hence, no net carbon dioxide is added to the environment, thus reducing green-house gas emissions. It has also been well established now that ethanol increases the octane number, decreases the Reid vapor pressure and produces fuel with clean burning characteristics (Dhillon et al.2007). Moreover, neat (unblended) ethanol can be burned with greater efficiency, and is thought to produce smaller amounts of ozone precursors (thus decreasing urban air pollution), and is particularly beneficial with respect to low net CO2 put into the atmosphere.
The increasing demand for various industrial purposes such as alternative source of energy, industrial solvents, cleansing agents and preservatives, has necessitated increased production of ethanol (Brooks2008). Furthermore, ethanol by fermentation offers a more favorable trade balance, enhanced energy security, and a major new crop for a depressed agricultural economy. Ethanol is considerably less toxic to humans than is gasoline (or methanol). Ethanol also reduces smog formation because of low volatility; its photochemical reactivity and low production of combustion products. Furthermore, low levels of smog-producing compounds are formed by its combustion (Wyman and Hinman1990). In addition, the low flame temperature of ethanol results in good engine performance.
Currently, bioethanol is being commercially produced only from edible feedstock such as corn-starch and sugarcane juice. The European Union (EU) had established a goal of 5.75% biomass-derived transportation fuels by December, 2010. The use of fuel ethanol has been quite successful in Brazil, where it is being produced at a very low cost by fermentation of sugarcane. In the US, corn is the dominant biomass feedstock for production of ethanol, and in the EU, straw and other agricultural wastes are the preferred types of biomass for ethanol production (Raposo et al.
2009
). These bioethanol production systems pose a concern about competition with food and feed supplies. To avoid this competition, bioethanol production from non edible lignocellulosic biomass such as wheat straw, rice straw, bagasse, corn stover, wood, peels of fruits and vegetables is attracting keen interest. The current production and use of bioethanol processes are a starting point. It is our belief that the next generational change in the use of bioresources will come from a total integration of innovative plant resources, synthesis of biomaterials, and generation of biofuels and biopower (Figure
1
).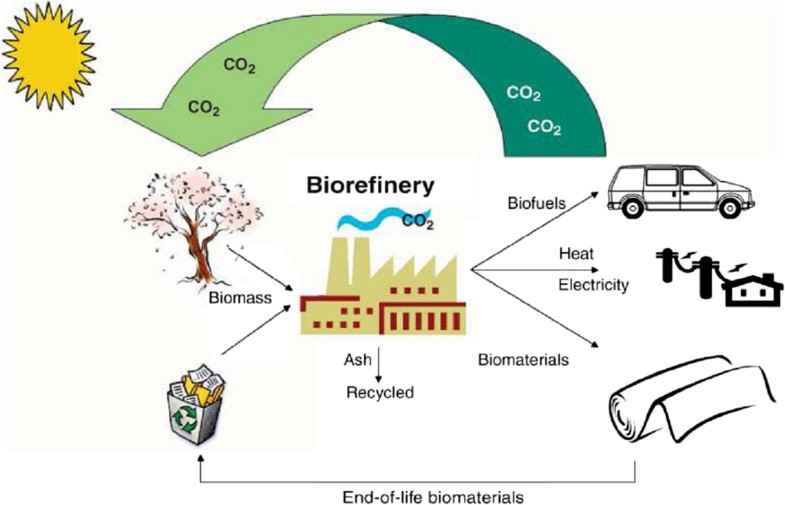 The present review is a concise overview of current and latest developments in ethanol production with special emphasis on the choice of lignocellulosic substrates, pretreatment methods and types of microorganisms that have been used for optimal, ecological and economic production of ethanol. Also reviewed are the different fungal and bacterial lignocellulolytic enzymatic systems including the current status of the technology for bioconversion of lignocellulose residues by microorganisms (particularly yeasts and fungi), with focus on the most economical and eco-friendly method for ethanol production.
Conclusion
Lignocellulolytic microorganisms, especially fungi, have attracted a great deal of interest as biomass degraders for large-scale applications due to their ability to produce large amounts of extracellular lignocellulolytic enzymes. Many successful attempts have been made to improve fungal lignocellulolytic activity including recombinant and non-recombinant techniques. Process integration has also been considered for the purpose of decreasing the production cost, which was partly achieved by performing hydrolysis and fermentation in a single reactor (SSF) using one or more microorganisms (co-culturing).
These laboratory improvements should now be verified in pilot and demonstration plants. Scaling up the production of lignocellulosic ethanol, however, requires further reduction of the production cost. Thus, in order to improve the technology and reduce the production cost, two major issues have to be addressed: i) improving technologies to overcome the recalcitrance of cellulosic biomass conversion (pretreatment, hydrolysis and fermentation) and ii) sustainable production of biomass in very large amounts.
Future prospects
It is considered that lignocellulosic waste will become the main feedstock for ethanol production in the near future. In the case of large scale biomass production, additional waste stocks can be tested and used as substrates to meet the needs. On the other hand, biotechnological approaches including systems biology and computational tools are likely good candidates to overcome these issues. Future trends for costs reduction should include more efficient pretreatment of biomass, improvement of specific activity and productivity of cellulases, improvement of recombinant microorganisms for a greater assimilation of all the sugars released during the pretreatment and hydrolysis processes, and further development of co-generation system. Undoubtedly, ongoing research on genetic and metabolic engineering will make possible the development of effective and stable strains of microorganisms for converting cellulosic biomass into ethanol. Process engineering will play a central role for the generation, design, analysis and implementation of technologies improving the indexes of global process, or for the retrofitting of employed bioprocesses. Undoubtedly, process intensification through integration of different phenomena and unit operations as well as the implementation of consolidated bioprocessing of different feedstocks into ethanol (that requires the development of tailored recombinant microorganisms), will offer the most significant outcomes during the search of the efficiency in fuel ethanol production. This fact will surely imply a qualitative improvement in the industrial production of fuel ethanol in the future.
Declarations
Acknowledgements
The authors are thankful to Chancellor, ITM University, Gwalior, MP, and Dr. J.L. Bhat, Dean, Life Sciences, ITM University, Gwalior, MP, for their constant support and encouragement.
Authors' Affiliations
(1)
Department of Life Sciences, Institute of Technology & Management University, Gwalior, India
Copyright
© Bhatia et al.; licensee Springer. 2012
This article is published under license to BioMed Central Ltd. This is an Open Access article distributed under the terms of the Creative Commons Attribution License (http://creativecommons.org/licenses/by/2.0), which permits unrestricted use, distribution, and reproduction in any medium, provided the original work is properly cited.